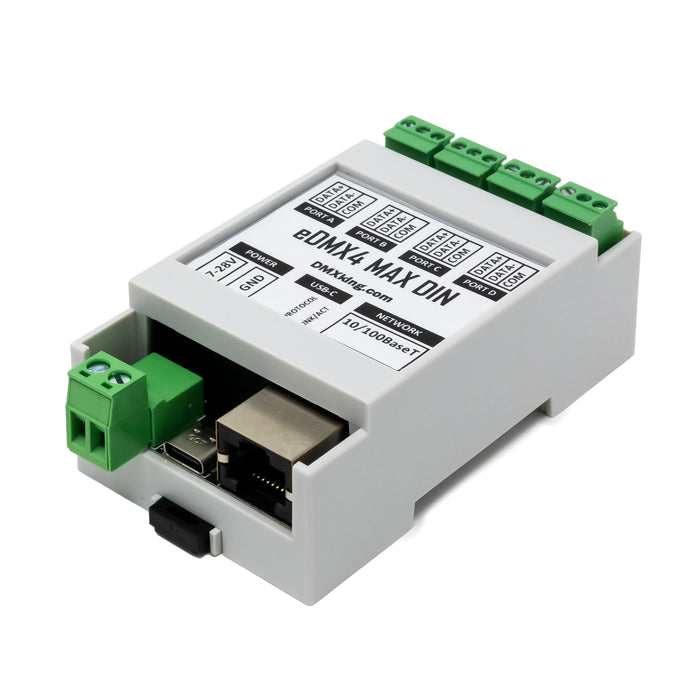 DMXking eDMX4 DIN MAX - ArtNet/sACN to DMX Controller
Availability: 35 in stock
Ready to be shipped from our US-based warehouse.
Description

Compact OEM Board for sACN/E1.31 and Art-Net to DMX512 conversion. Supporting both DMX512 output and input individually configurable on each channel along with Art-Net and sACN protocols the eDMX4 PRO DIN is well suited to distributed permanent installations tucked away in small enclosures. Designed and manufactured in New Zealand to the highest standards.

Recording/playback requires approved/tested SD card models (see recording manual for details).
Features
Wide input power range 7-28Vdc.
Static IP or DHCP network addressing.
OEM board for integration into your designs.
Wall or DIN rail mount.
4x DMX512 Out or DMX512 In with E1.20 RDM support.
Merge 2 incoming Art-Net streams per output channel with both

 

HTP

 

and LTP options.
Merge Art-Net + DMX input -> DMX output(s).
Merge 2x DMX input -> DMX output(s).
sACN Priority takeover for multi-tier controller arrangements.
Available with 3 pin screw plugs.
Fully compatible with *ALL* software and hardware that supports Art-Net I, II, 3 & 4 and sACN/E1.31 protocols.

Fully compatible with lighting consoles capable of generating Art-Net or

 

sACN

 

protocol.
Universe Sync Art-Net, sACN and Madrix Post Sync.
Recording and playback to microSD card (not included). See eDMX PRO Record / Playback manual.
Standalone show playback without a computer or network connection.
Configuration utility (Win/OSX) with basic Art-Net output/input test functionality (Win only).
Firmware updates can be performed by an end user.
Supported operating systems: Any with Ethernet networking support. Windows, Mac, Linux, iOS, Android.
Related Products

Support
Visit our product info site for:
User Manuals and Configuration software
FAQ and Knowledge Base
Technical Support
Links to compatible software
Product Info & Support