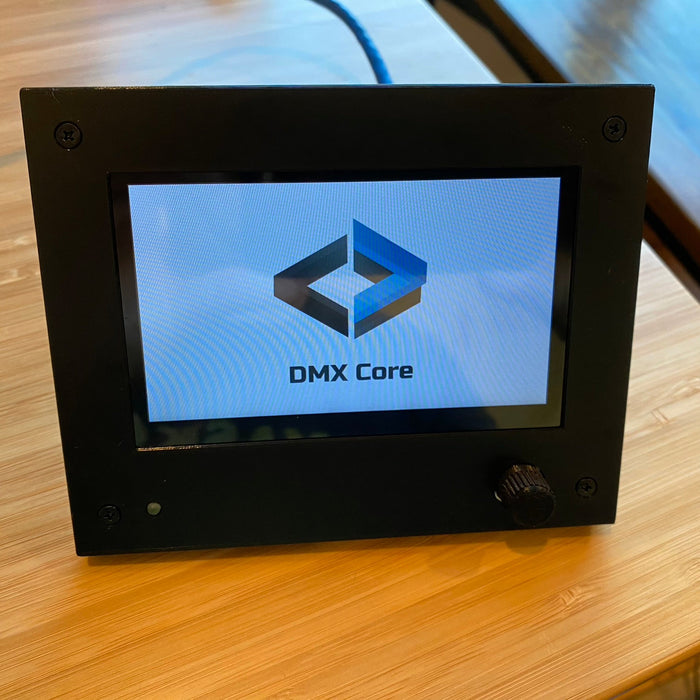 DMX Core 100 Wall Controller - QSC Q-SYS Remote Control
Availability: 8 in stock
*Early adopter stage - Buy it today!*
This is a standalone wall controller with a 4.3" touchscreen that is mounted in a 2-gang electrical box and powered over Ethernet (or 8-28VDC input). It runs as a programmable remote for QSC Q-SYS DSP cores, using the Extended Control Protocol (ECP). The user interface is customized by the installer and is then locked down for production. It can be remotely managed and updated.
Feature list:

Remote access via BalenaCloud (includes 1 year cloud access)

Full control via Web UI and API
Customizable for integrators
RTC clock with battery backup, plus network sync for accurate clock
Power over Ethernet or 8-28VDC power input
1 GbE Ethernet connector
MicroSD and USB-A for file storage/boot image loading
Remote software upgrade (1 year upgrades included)
Designed to be installed in a 2-gang electrical box (does not include the desk stand that you may have seen in pictures/videos)

Make sure you sign up to our dedicated mailing list for DMX Core information: Sign up
Product Documentation
Note that this is currently under development and more details will be released later. Be part of the development, contact us directly for your specific needs and we will do everything we can do incorporate it into the software. We have a handful of these available for immediate shipping with more on the way. Contact us for reseller opportunities specifically on this product.