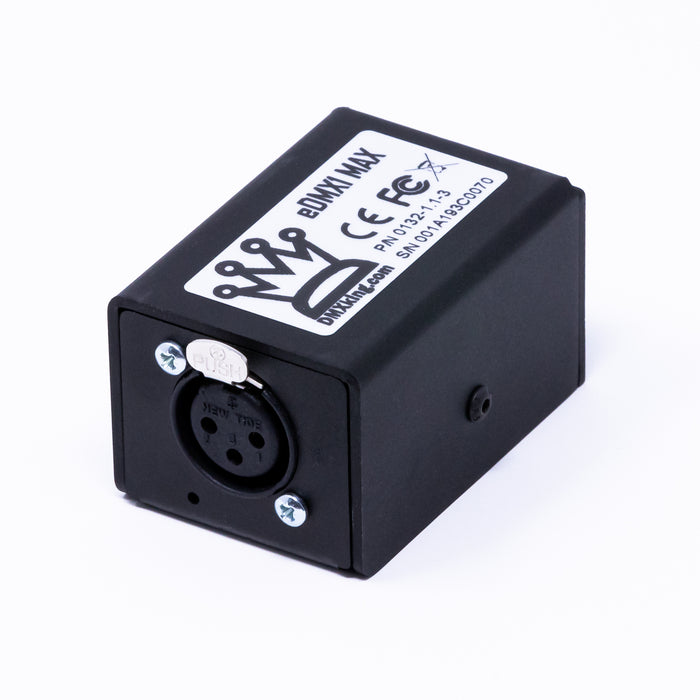 DMXking eDMX1 MAX - ArtNet/sACN to DMX Controller
Availability: 25 in stock
Ready to be shipped from our US-based warehouse.
Description
Compact and robust this single universe Ethernet DMX512 node suits a wide range of applications. With power supplied via a USB socket many power source options exist since almost any USB port or USB charger/power supply will work just fine including USB ports on many wireless routers. You choose 3-pin or 5-pin XLR so no inline adapters are required. Both DMX512 output and DMX512 input functions are supported along with E1.20 RDM. Designed and manufactured in New Zealand to the highest standards the eDMX1 is the perfect first step into DMX512 over Ethernet.
Features
Includes USB cable, but does not include power supply. Please see USB Power supply for an approved and tested USB Power supply with the correct amperage.
All configuration options are stored in non-volatile memory on the device. Device can be controlled by any operating system supporting ArtNet/sACN. For changing configuration options there's a Windows and OS X utility available. The eDMX1-MAX is set up for plug and play operation using DHCP from factory, in most scenarios you can just hook it up to great software like Luminair and start using it right away, no need to use the configuration utility.
Supporting both Art-Net and sACN the eDMX1 is ideal for your single universe Luminair controlled rig right through to complex distributed high universe count applications.
DHCP automatic network address by default - plugin and illuminate!
Supported operating systems: Any with Ethernet networking support. Windows, MAC OS, Linux, iOS, Android.
DMX512 Out or DMX512 In functionality over Art-Net / sACN E1.31
E1.20 RDM over Art-Net support.
Universe Sync Art-Net, sACN and Madrix Post Sync.
User configuration of Art-Net Node short and long names.
Compact tough metal enclosure.
Available with 3 pin or 5 pin XLR socket, no adapter purchase required.
External 5Vdc power input USB type C socket, used for power and configuration. Can be powered directly from computer USB ports.
Fully compatible with *ALL* software and hardware that supports Art-Net I, II, 3 & 4 and sACN protocols.
Fully compatible with lighting consoles capable of generating Art-Net or sACN protocol.
Configuration utility (Win/OSX) with basic Art-Net output/input test functionality (Win only).
Firmware updates can be performed by an end user.
Now even supports the Enttec Pro protocol over USB, can be used as a USB dongle in supported software like LightKey and QLab 5.
Equivalent Hardware:
Enttec Open DMX Ethernet ODE ($275)
Support
Visit our product info site for:
User Manuals and Configuration software
FAQ and Knowledge Base
Technical Support
Links to compatible software
Product Info & Support