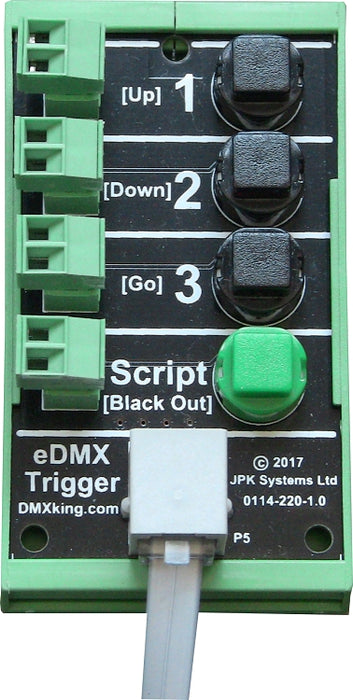 DMXking eDMX Trigger board
Availability: 18 in stock
Ready to be shipped from our US-based warehouse.
Description:
Trigger your show from this handy board, connected to your eDMX PRO products via included RJ12 cable.
Compatible with the eDMX2 PRO, ultraDMX2 PRO, eDMX4-DIN PRO and LeDMX4 PRO products. Not compatible with the new MAX series.
Note that this doesn't come with DIN-rail or wall mount accessories, please see listings below to add those separately.
Features:
Board to control Playback, up/down and blackout functionality on eDMX4-DIN/LeDMX boards.
Includes 30cm RJ12 cable for simple connection.
Verify that your LeDMX PRO or eDMX PRO product has an accessory port before purchasing.
Onboard buttons alongside terminal blocks provide easy and customized basic show playback functionality.
Single eDMX PRO / LeDMX PRO / ultraDMX2 PRO can broadcast eDMX Trigger control to other units on the network.
Related products

Documentation