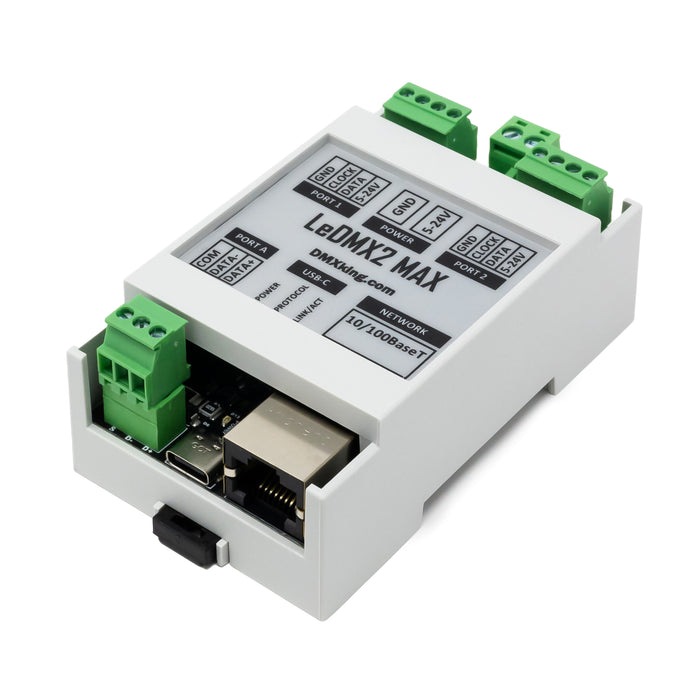 DMXking LeDMX2 MAX - 2 port LED RGB Pixel Controller
Availability: 7 in stock
20 additional units are on order, arrival estimate pending.
Description
An OEM Board for direct sACN/E1.31 and Art-Net to RGB pixel strip/array control. No longer do you need sACN/Art-Net -> DMX512 -> RGB pixel driver. Eliminate the DMX512 conversion using our LeDMX4 and go direct sACN/Art-Net -> RGB pixel. Compact and feature packed you'll find it easy to design into your applications with the ability to scale as big as you like whilst keeping everything synchronized. Designed and manufactured in New Zealand to the highest standards, LeDMX2 is a professional product you can rely on backed by our world renowned after sales support.
Recording/playback requires approved/tested SD card models (see recording manual for details).
Promo - includes free 4 universe license to Lightjams LED Mapper with the purchase of a LeDMX2 MAX!
Features
Static IP or DHCP network addressing.
OEM board for integration into your designs.
Wall or DIN rail mount.
2x independent pixel outputs each with 8A supply capability. 

1x DMX512 IN/OUT port.

Each pixel port has protection circuits for pixel power supply voltage on the signal lines (DA and CK).
Board capacity is 13 universes (12 for pixels, 1 for DMX512).

Directly drives WS2811, WS2812, WS2812B, WS2813, WS2814, WS2815, WS2822S, UCS1903, UCS2903, UCS2912, UCS8903, UCS8904, PL9823, TM1934, APA101, SK9822, APA102, APA104, APA106, INK1002, INK1003, SM16703, SK6812, WS2801, LPD6803, LPD8806, DMX512-P, TM1814, TLS3001 and many more compatible LED strips.

Selectable clock/data rate to suit long cables or fast output.
Up to 1020 RGB pixels or 768 RGBW pixels per output spanning 6 DMX universes (2040 RGB pixels / 12 universes per board).

Up to 510 16bit RGB pixels or 384 16bit RGBW pixels per output.

Automatic RGB / RGBW order correction and additional pixel re-mapping features.
Per pixel intensity control for APA102/SK9822 utilizing the 5bit current pre-regulator.
Master Level control independent of incoming universe streams.

Flexible Full Mapping option for outputs permitting any start address and zig-zag corrections for RGB, RGB16, RGBW and RGBW16 pixel types.

Null pixel support for longer runs to first active pixel.

Art-Net broadcast, Art-Net II, 3 & 4 unicast, sACN/E1.31 Multicast and sACN Unicast support.
Universe Sync Art-Net, sACN and Madrix Post Sync.
Fully compatible with *ALL* software and hardware that supports Art-Net I, II, 3 & 4 and sACN/E1.31 protocols.
Fully compatible with lighting consoles capable of generating Art-Net or sACN protocol.
HTP Merging of 2 sources and sACN Priority for a highly flexible multi-source pixel mapping solution.
DMX512 OUT/IN port usable for pixel mapping source along with ArtNet/sACN.
Configuration utility (Win/OSX). Windows version required for basic Art-Net output/input test functionality and to manage SD playback/record functionality.

Recording and playback to microSD card (not included). See eDMX PRO Record / Playback manual.
Standalone show playback without computer or network connection. External trigger input.
Firmware updates can be performed by end user.
Supported operating systems: Any with Ethernet networking support. Windows, Mac, Linux, iOS, Android.
5V to 24V DC. Board can be powered independently from pixels via USB-C connector.

Related Products

Equivalent Hardware
San Devices E682 ($180)
J1SYS ECG-PIXAD8 ($155)
Advatek PixLite 4 Mk2 ($340)
Madrix Nebula ($559)
Support:
Visit our product info site for:
User Manuals and Configuration software
FAQ and Knowledge Base
Technical Support
Links to compatible software
Product Info & Support