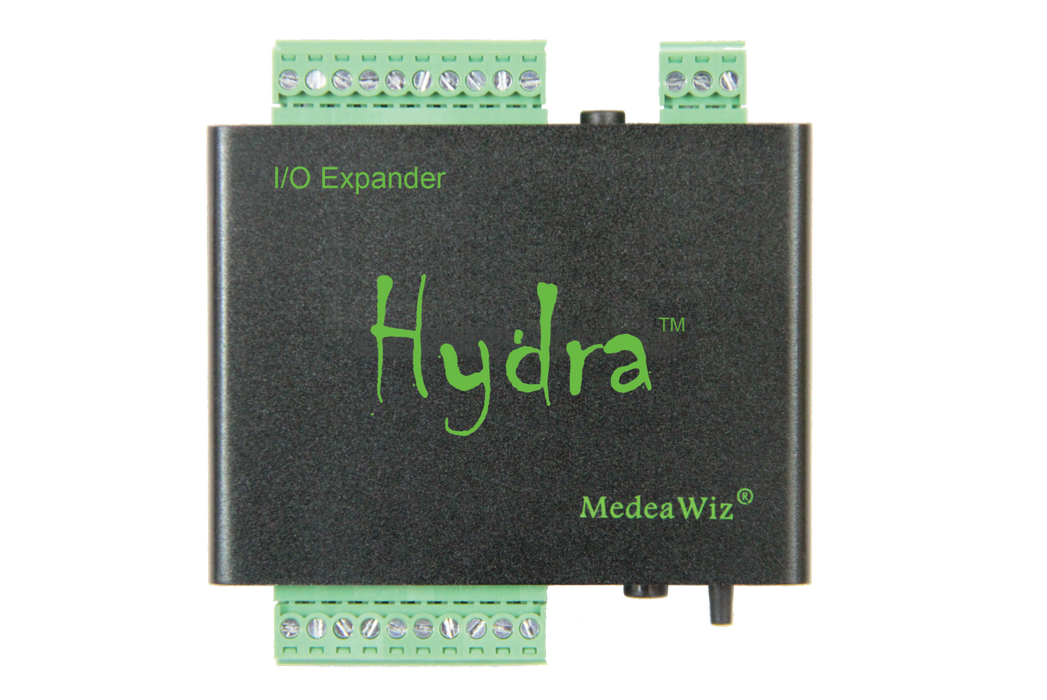 MedeaWiz Hydra I/O Expander for Sprite
Availability: 9 in stock
Ready to be shipped from our US-based warehouse.
The MedeaWiz® Hydra™ is an Input and Output expander for the MedeaWiz® Sprite® HD video player.  It adds multiple trigger inputs and outputs, a motion sensor input and DMX512 control input. The Hydra connects to the Sprite serial port with the included 3.5mm 4 pole cable.
Many customers will use the factory set default Mode 1. It has 9 push button inputs plus a motion sensor input and 8 outputs. The first 8 inputs will play files named 001 – 008. The motion sensor input will also play file 001. The inputs are NO Interrupt. This means that once a file is triggered it will play to the end. Any other triggers during this time are ignored. The corresponding output 1 – 8 will be active while the file is playing. Input 9 will interrupt and force the Sprite back to the looping file named 000.
Key Features
Many pre-programmed and user selectable modes of operation including:
9 trigger inputs with 8 sinking outputs
5 x 5 matrix for up to 25 trigger inputs
3 x 4 keypad for up to 99 triggered files
DMX512 control for the Sprite up to 200 files - plus 8 individual sinking outputs
Can control 2 Sprites in some Modes
PIR motion sensor input with user selectable re-trigger delay time
Random triggers
Incremented step next / previous triggers
Trigger alternate looping files
PIC18F processor can be custom programmed by us or you for specific needs
The Hydra™ is energy efficient using 5 Volt DC power at an average of 15 mA, and is powered from the Sprite® video player.