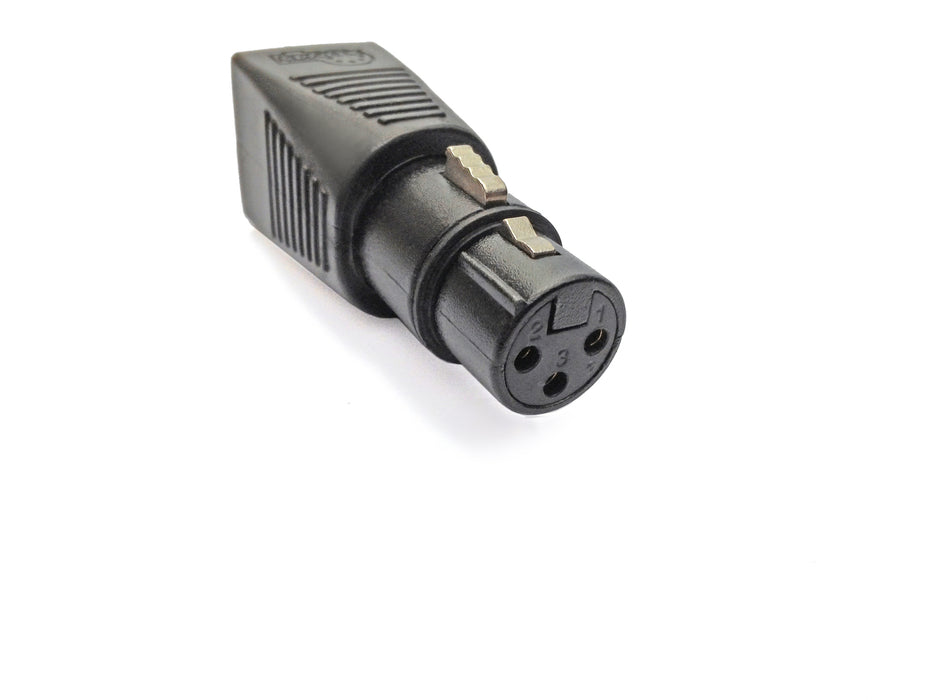 CPoint - XLRJ45 Adapter
Unfortunately we are currently sold out of this. If ordered we will ship as soon as we get this back in stock.
XLRJ45® is an adapter to convert a DMX512 XLR connector to a RJ45 connector. The adapter makes it possible to use any ordinary, low cost CAT-5 ethernet cable as a DMX512 cable. XLRJ45® is available in four versions, 3-pin male or female XLR or 5-pin male or female XLR. The different adapters can be mixed to make for example a 5-pin to 3-pin cable. They are very useful for making a DMX512 cable quickly and at a very low cost.
CPOINT® XLRJ45® Facts & Features

Use an ordinary CAT-5 ethernet cable to make a DMX512 cable together with two XLRJ45® adapters.
Plug the XLRJ45® directly into any 3 or 5-pin XLR DMX512-controlled equipment.
Four XLRJ45® versions are available, male or female 3-pin or 5-pin XLR to RJ45.
Combine different adapters as needed.
Very robust, rugged molded housing with non-slip grip.
Gold plated pins on connectors.
Sturdy light weight color printed paper box packaging.
Weight including packaging, 50g/1.76oz.
EAN13 Barcodes, separate code for each type of XLRJ45®.
Easy to use and small, fits in your pocket.
RoHS, REACH and California Prop65 Certified.