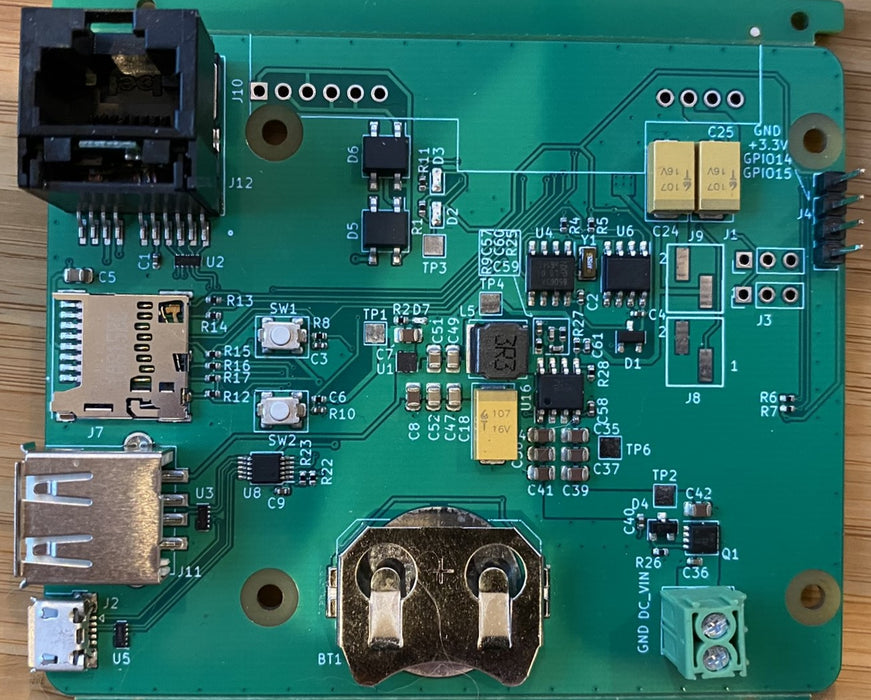 DMX Core BB-1 Full Schematic License
Availability: 10 in stock
The DMX Core BB-1 is a baseboard or carrier board designed for the Raspberry Pi CM4 module. It comes with a set of desired features and is intended as a starting point for your own custom CM4 baseboard. You will receive the complete schematic in KiCad format, PCB layout and instructions to place a PCB assembly order directly with a PCB fab house like JLCPCB. You will receive one prototype board directly from us as well (not including CM4).
This purchase is for a license to use the schematic in any of your own designs, as many as you wish, no restrictions. You will receive updates to the schematic for one year after purchase (in the same model line).
Features:
Raspberry Pi CM4 module with eMMC storage (up to 8GB RAM, 32GB storage)
85x70mm board size (fits in a 2-gang electrical box)
Power over Ethernet (15W) (optional)
8-28 VDC power connector (optional)
1 GbE ethernet connection
3.3V and 5.0V available on board
Touchscreen interface (HDMI and I2C)
USB-A jack for USB memory stick and initial image loading
microSD for file loading (used in parallel with eMMC on CM4)

RTC clock and battery
Temperature sensor (LM75)
24-pin I/O connector for daughter board (I2C, 3.3V, HDMI and GPIO)

Power and activity LED
We spent a great deal of time and money to design this board (and make it fit in an electrical box) and we're now offering it as a starting point for anyone to get a head start on their own CM4 baseboard.
The photos are from an early prototype, you will receive the latest revision and current files.