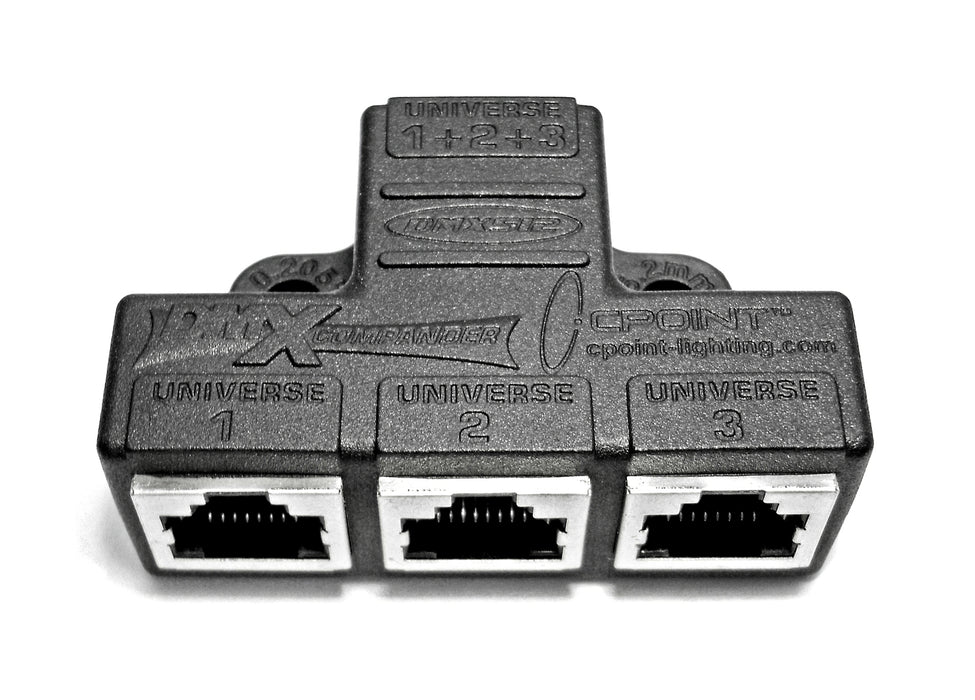 CPoint - DMX One RJ45 to Three RJ45 Adapter
Unfortunately we are currently sold out of this. If ordered we will ship as soon as we get this back in stock.
DMXcompander™ makes it possible to run three DMX512 Universes in one CAT-5 cable. A CAT-5 cable has four data-pairs, one pair is used as the 0V reference and the other three pairs are used for DMX512 Data+ and Data-. Through the three RJ45 connectors on the DMXcompander, three DMX512 Universes are "COMpressed" into one CAT-5 cable through the 'Universe 1+2+3' RJ45 connector. In the other end of the CAT-5 cable another DMXcompander can be used to "exPAND" the DMX512 Universes again, making them available through the three RJ45 connectors. Together with CAT-5 cables and CPOINT's XLRJ45 adapters, a DMX512 network can be set up very quickly and at a very low cost.
CPOINT® DMXcompander™ Facts & Features

Three DMX512 Universes (1536 channels) combined into one CAT-5 cable.
RJ45 connectors used for connection with inexpensive CAT-5 cables.
Gold-plated pins on RJ45 connectors.
Sturdy molded housing.
Mountable on DIN rail.
Mountable in lighting-rig.
Use as flexible DMX outlet.
Mountable with 5mm/0.2" screws or cable-tie.
Weight including packaging, 49g/1.73oz.
EAN13 Barcode on packaging.
Light weight packaging.
Easy to use.
RoHS, REACH and California Prop65 Certified.