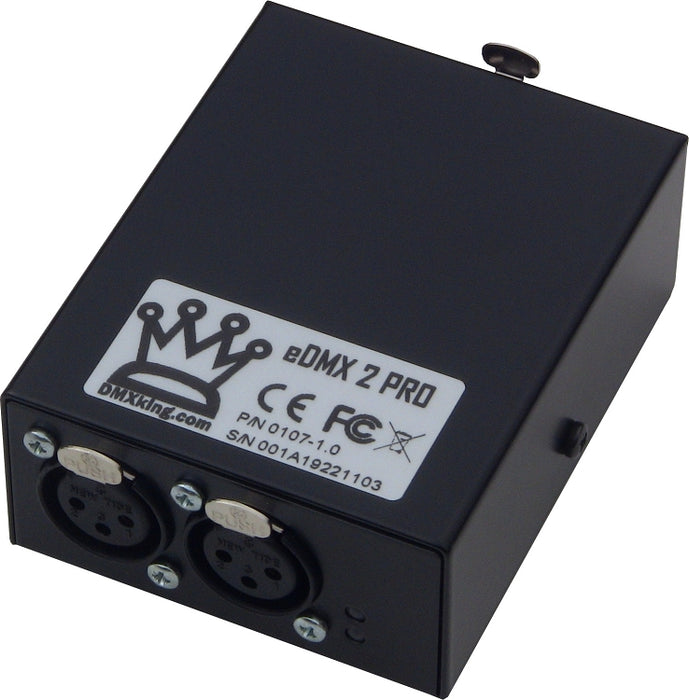 DMXking eDMX2 PRO PoE Ethernet/USB DMX Controller
Unfortunately we are currently sold out of this. If ordered we will ship as soon as we get this back in stock.
Replaced by the eDMX2 MAX
SKU
DMXKING-EDMX2-PRO-POE-3
Description
Perfect middle ground when you need more than 1 universe but without the expense and bulk of 4 universe nodes. We've incorporated both Art-Net/sACN and USB DMX in the same unit along with a Power over Ethernet option making this the most flexible 2 universe node around. Built tough and compact the eDMX2 PRO takes little space in your bag and has both USB and PoE power options available. Mount an eDMX2 PRO closer to the rig and run Ethernet cable back to the controller using PoE power.
With USB DMX and ArtNet/sACN capabilities the eDMX2 PRO gives you the best of both worlds. Run USB DMX from your laptop or PoE Ethernet ArtNet as part of a larger rig or even merge USB DMX from another lighting application with your main system. eDMX2 PRO is the most flexible interface on the market.
Supporting both DMX512 output and DMX512 input individually configurable on each channel along with Art-Net and sACN protocols the eDMX2 PRO is the perfect choice for temporary small to medium rigs. DMX merge functionality works from both Art-Net/sACN, DMX Input and USB DMX sources providing plenty of configuration possibilities. Designed and manufactured in New Zealand to the highest standards.

Recording/playback requires approved/tested SD card models (see recording manual for details).

Manufacturer part number: 0107-1.0-5
Features
Power Options:
Configuration:
All configuration options are stored in non-volatile memory on the device, so even if you need Windows/MacOSX for the configuration utility, you can still use this with other computers/devices once it's configured.
Supporting both Art-Net and sACN the eDMX2 is ideal for when you need a little more than the single universe eDMX1.
Main Features:
Static IP or DHCP network addressing.
Supported operating systems: Any with Ethernet networking support. Windows, MAC OS, Linux, iOS, Android.
Fully compatible with USB DMX software suitable for ENTTEC USB Pro. Drivers for Windows, OS X, Linux.
eDMX2 PRO - 2x DMX512 Out or DMX512 In with Art-Net, sACN E1.31 and E1.20 RDM support
Merge 2 incoming Art-Net/sACN streams per output channel with both HTP and LTP options
Merge Art-Net/sACN + DMX input -> DMX output
Merge DMX input + USB DMX source -> DMX output
USB DMX enhanced mode for 2 Universe Out or 1 In 1 Out.
1500V Isolation between every port.
Art-Net broadcast, Art-Net II, III & 4 unicast, sACN/E1.31 Multicast and sACN Unicast support.
E1.20 RDM over Art-Net support.
Universe Sync Art-Net, sACN and Madrix Post Sync.
User configuration of Art-Net Node short and long names.
Compact tough metal enclosure.
Available with 3 pin or 5 pin XLR socket, no adapter purchase required.
Accessory port (RJ12) for external show triggering and future add on devices.
Optional Power over Ethernet

 

802.3af compliant
etherCON

 

for network connection.
External 5Vdc power input USB type B socket. Can be powered from computer USB port, USB charger unit, or PoE.
Fully compatible with *ALL* software and hardware that supports Art-Net I, II, 3 & 4 and sACN protocols.
Works with your existing console if Art-Net or sACN external nodes are supported.
Configuration utility (Win/OSX). Windows version required for basic Art-Net output/input test functionality and to manage SD playback/record functionality.
Recording and playback to microSD card (not included). See eDMX PRO Record / Playback manual.
Standalone show playback without computer or network connection.
Firmware updates can be performed by end user.
Related Products

Equivalent Hardware
Enttec Open DMX Ethernet ODE 1 universe ($275)
Enttec Open DMX Ethernet ODE with POE 1 universe ($330)
Enttec DMx Ethergate MK3 2 universes ($550)
Support
Visit our product info site for:
User Manuals and Configuration software
FAQ and Knowledge Base
Technical Support
Links to compatible software
Product Info & Support