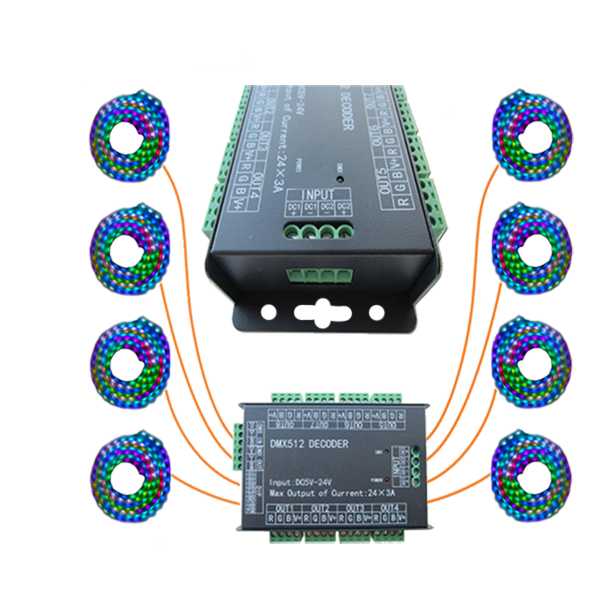 DMX decoder and LED low-voltage dimmer - 24 Channel
Unfortunately we are currently sold out of this. If ordered we will ship as soon as we get this back in stock.
Description:
24CH RGB DMX decoding driver converts a DMX512 input to PWM output with 256 different levels output per channel. It provides flicker-free and smooth dimming of low voltage (5-24V) LEDs and lights. 
Note that this is for "dumb" LED strips, not pixels that are individually addressable. Can also be used to control low-voltage lights, like those in inflatable Halloween/holiday displays. Please note that the product can be slightly different than the photos due to sourcing limitations. This is not a DMXking product.
Features:
Power input: DC 5V - 24V
Channels: 24 (8 groups of 3 channels, ideal for RGB strips, but can be used independently)
Output rating: 3A per channel
Input: DMX512 (cables/XLR connectors not included)
Plug-in terminal blocks for easy connections
Operating temperature: -20 - 50°C
DMX starting channel set by DIP switches on the side
There are 10 built-in programs which can be used for testing or for simple displays.
Product Info & Support